The OptEEmAL Platform – the ideal tool to design YOUR retrofitting project
27.02.2019

– The design of retrofitting projects for existing buildings still suffers from needless fragmentation, long processes and uncertainties. OptEEmAL offers a solution to these problems with its Optimised Energy Efficient Design Platform!

The design of retrofitting projects for existing buildings still suffers from needless fragmentation, long processes and uncertainties. This hinders the building stock from becoming more sustainable and contributing to the EU's ambitious targets of 40 % emissions reduction by 2030. Therefore, new solutions that facilitate collaboration and improve the whole process are demanded by the retrofitting sector.

The OptEEmAL consortium has worked towards reducing fragmentation, time and uncertainties of the process in order to become THE solution for designing your Energy Efficient District Retrofitting project. After three years and a half of project execution, we are proud to present a solution able to help in the design of retrofitting actions towards the improvement of the energy efficiency and performance at district scale. The work carried out by the OptEEmAL partners has been focused on developing an Optimised Energy Efficient Design Platform able to design energy retrofitting projects that are based on different energy conservation measures to improve the performance of a district. To reach this objective, the OptEEmAL consortium has created a tool able to reduce time delivery and uncertainties resulting in improved solutions when compared to business-as-usual practices. Using this tool, the main output of the project has been to demonstrate and validate the correct functioning of the platform for three demonstration districts located in San Sebastián (Spain), Lund (Sweden) and Trento (Italy). The work executed in the different work packages, and materialised in the modules and tools, has been based on the integration of five main pillars essential to obtain a novel solution:
Integration of a BIM-based information exchange approach to enhance collaboration between stakeholders and improve information flows within the design process.
Integration of an IPD-based retrofitting design approach to facilitate communication, knowledge sharing and consensus among interested stakeholders.
Integration of a catalogue of Energy Conservation Measures (ECMs) considering the scale of implementation and providing all needed data for the evaluation of the design alternatives.
Integration of a Multi-Criteria Decision Analysis (MCDA) approach for decision-making integrating the interest of the stakeholders and making use of well-established indicators at different scales.
Integration of a semantic data model and data mapping processes to ensure interoperability among the platform components and consistency of communications.
Thus, the OptEEmAL Platform provides the user with a holistic tool that reduces time and costs in the design phase, and improves the whole process in terms of management, information flows and design quality. Indeed, with OptEEmAL, costs during the design phase are reduced by about 19 % compared to business-as-usual, and the operational phase cost could be reduced by 25 % through promoting holistic solutions. This makes the OptEEmAL Platform a great tool to design YOUR energy efficient retrofitting project.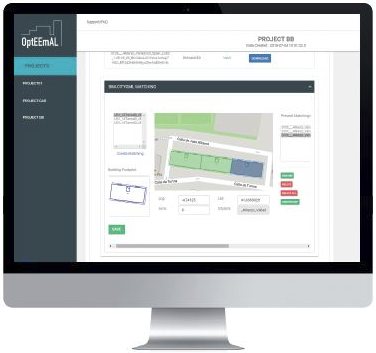 More information on the OptEEmAL Platform:
Introductory video to OptEEmAL
Video guiding through the different steps of the OptEEmAL Platform
OptEEmAL Website
OptEEmAL Final Booklet